In Uganda, when I wasn't away on epic excursions, I…
9. Attended "Wednesday school"
Chatting with Louise (the UK physiotherapist) on Easter Sunday, I got to know that she had been helping out in "Wednesday school" – which really was a Sunday school session held on Wednesdays (I know, you didn't need to me to explain that), in the paediatrics ward.
So I poked my head around the following Wednesday afternoon. The "class" took place in a well-demarcated section of the paediatrics ward. We took tins with beans put in them, and handed them to the children – they were sick children with polio, malaria, and bad burns from spilt boiling porridge. We started singing songs, and everyone, including the parents, sang along loudly. It was amazing.
I don't usually say something as melodramatic as this (yeah whatever), but watching the smiles the children gave when they were shaking those tins and singing along was just priceless.
Time as though stopped for a while, and everything seemed worth it.
Louise then told the story of Jesus entering Jerusalem on a donkey on Palm Friday, with the aid of a picture book in her hand and a translator beside. It may sound strange to be telling this story after Easter Sunday, but I thought it was actually quite effective in making us think about what "Hosanna" really means!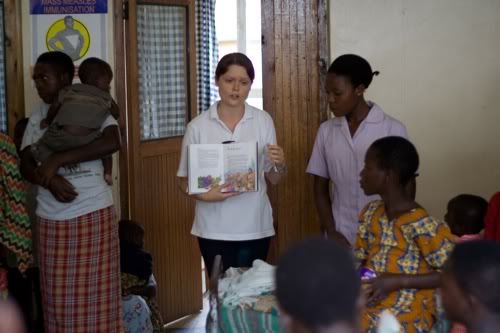 To finish the Wednesday school session, we handed out crayons and paper for the children to draw Jesus on a donkey, but surprisingly, the moms definitely seemed to be the more eager ones in taking the task up instead!
Louise turned around, and half-jokingly remarked that as much as "Wednesday school" was for the ill children in the hospital, it was as much also for the parents. Indeed, I thought. There is sickness everywhere.
10. Followed the community ante-/post-natal outreach team
While I admit I'm not terribly fascinated with obstetrics and gynaecology (sorry), I was glad I tagged along one of the hospital outreach visits to the neighbouring settlements for ante- and post-natal check-ups and immunizations.
We borrowed two of the local primary school classrooms for our purposes, while classes went on as usual just next door!
I palpated a few pregnant tummies, measured a few blood pressures, watched babies cry when being immunized, peeked at the bewildered students in the classroom next door, then played volleyball briefly after all of that ended.
I guess I was getting more used to being the beacon-like Mzungu by then.
11. Helped out during the "Sponsor an orphan"-project big assembly day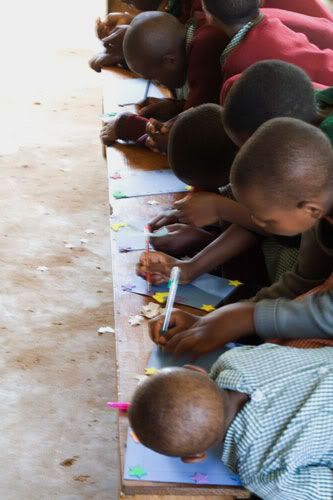 Amongst the various people whom we had the honor of knowing, via their short visits to Kisiizi during our time there, were Greg and Wendy from the UK, who were part of the coordinating committee of this UK "Sponsor an Orphan" project.
(Can you believe that part of the reason why I delayed this entry for so long is because I was so frustrated that I couldn't remember Wendy's name – thank God it all came back to me, haha!!)
One day, together with the local project staff they held this big assembly event in the Kisiizi primary school hall for all the orphans enlisted under the project. Greg and Wendy had over the past few days visited various schools to make sure the funds raised were spent wisely on shoes, books, uniform, etc.
I now can't remember if we had been actually asked to help out for the assembly event, but even if we hadn't been, I'm sure Mike, Sue and I would still unabashedly invite ourselves anyway, haha -_-
One by one the children were called to go to outside the hall for a photograph, while inside the hall, the other children were busy making cards that would be sent to their respective sponsors (together with their photographs). With various colored marker pens and some lovely stickers, they were asked to decorate their cards however they liked, and write some sentences about themselves – their name, date of birth, hobbies, etc.
Mike, Sue and I, together with Louise, hovered around and showed some of the children what could be drawn on the cards. I drew one simple flower and asked the children to copy, while Sue was happily stamping her trademark sketches on every card the children presented her with, haha. I failed terribly when asked to draw chickens and cows – my animals look like deformed clay figures!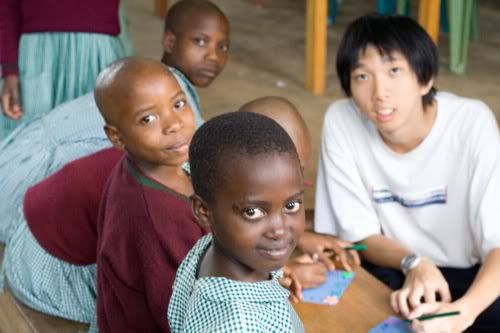 When all the photographs had been taken, and all the cards collected, Greg and Wendy then gave out the letters that the sponsors for the project have written to their respective sponsored orphans. The process was like a prize-giving ceremony – a name would be announced, and the child would walk up to receive the letter. Those who received letters were naturally overjoyed.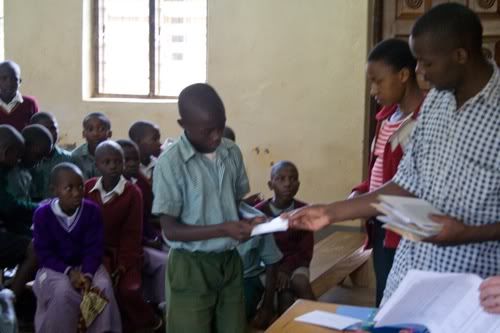 It made me wonder, though, about how those who didn't receive any letter from his or her sponsor felt… So if you are sponsoring a child in Africa or wherever, make sure you write to your sponsored orphan!!
After the long morning, we had some games on the big school field outside. We played "Trolls and Dwarves", which was basically a tag game except that we, the Mzungus, were fixed to be the "bad Trolls" (yeah, how predictable). MAN can those kids run!! I think at one stage I was even made fun of for my slowness…… Kill me.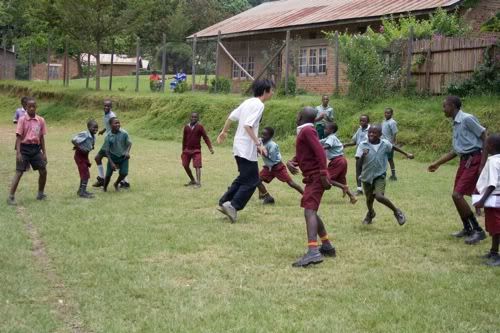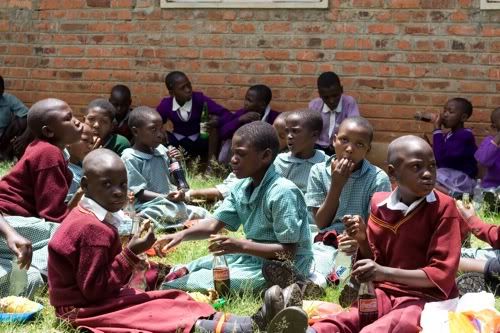 We ended the eventful day with lunch en masse — classic matoke, G-nut paste and soda.
Can't go wrong with those!
– End 終わり –
* * * *
(A way-overdue finale to parts one and two. Phew! *wipes sweat*)