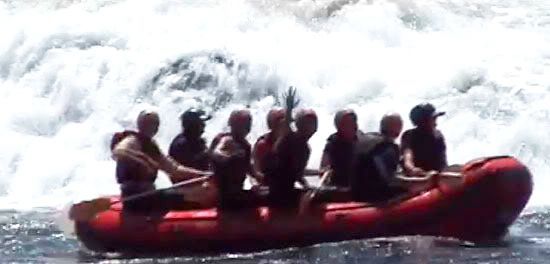 ( In continuation from the events described here… )
At the Nile River Explorers (NRE) Base Camp, a cliff above the mighty Nile River, 8kms downstream from the Bujagali falls, Jinja, Uganda:

It was almost dusk when we arrived, with exhilaration. Several small low buildings sprawled lazily across the yellow red compound, with some vehicles parked casually amongst them. We trekked to explore the surrounding area by foot before sunset, with a companion dog joining us halfway. The unceasing river streams drummed along steadily in the background, we could all hear.
Sue had chosen NRE over the competing company Adrift for the reason that Adrift's campsite, according to Louise while we were in Kisiizi, had no mosquito nets. Then that night we realized NRE didn't provide mosquito nets either! Lying on our beds, none of us dared to ask why nobody actually thought of this beforehand.
We decided to load ourselves with layers of insect repellant before going to bed, despite being told it wasn't necessary. The night was, unsurprisingly, a sticky and smelly one, but a period of heavy downpour helped lullaby us.
* * * *
Early the next morning, we did a quick breakfast in downtown Jinja while our guide Alice, an Australian lady with an impressive tan and swimmer's body, briefed us on the rafting over Grade 5 rapids that was about to happen. In all the build-up of nervousness however, we weren't exactly listening. I did nonetheless consciously check to make sure my shorts were tied tight enough.
Onto the open back of our truck we hopped, bumping up and down on the dirt roads, in the subtle winds and under the sunny skies, as we traveled toward the drop-off site. Tiny villages of mud huts passed by around us. Some of the locals waved. It was truly exquisite – and felt just like an authentic "Lonely Planet" experience!
Soon we were standing – barefoot but equipped with helmets, full-buoyancy life-jackets and obsessively-applied layers upon layers of sunscreen – to challenge the Nile River now only a few steps in front of us. Its whitewater waves roared to snicker at us back, and we trembled a little.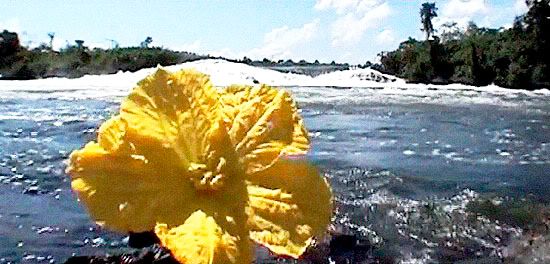 Since back in Kisiizi a few weeks ago when I first decided to do whitewater rafting in Jinja, I had come to note "I thought I was going to die" as a recurring theme in the opinions even of experienced swimmers and adventure tourists who had been here before. Louise's "When you get thrown into the water, curl up and try to relax. You'll float up soon – but when you do, take a deep breath immediately, because you'll probably be pushed back into the water again for a good while" ridiculously made me both want and not want to do it. And add to the fact that I was the worst-ever swimmer (more like a total non-swimmer in the context of the Nile River) – I began henceforth conversing consistently in conditional tense – "…if I come back alive from this trip!"
In fact, even after so long, I still shiver a tiny little at the recollection, but I was really fortunate to have done the trip together with a group of very supportive friends. The entire experience was amazing.
In the first few hundred metres of still-water, we had a quick lesson on how time becomes distorted underwater, how to hold the oar for either power or speed, how to respond when the guide shouts certain important commands, how to handle ourselves when we get thrown into the water, how to rescue others, et cetra. We had a practice swim and a practice flip, swallowing more than a few mouthfuls of water in the process, which, when compared to the actual journey, was nothing!
The real journey started. The Grade 5 rapids could always be heard loud and clear well before they were seen – their signature rumbles that grew from growls into thunders as we floated closer were always intimidating and ominous. It was something to be experienced.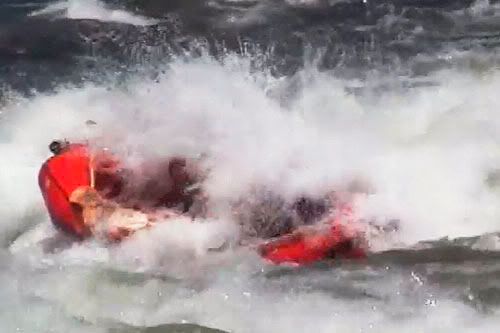 Entering a rapid, it was like a warzone; the deafening roars, sudden unpredictable jerks of our raft, and maddening splashes of water from everywhere supersaturated each elastic moment. Amongst the chaos, nonetheless, was the need to maintain coordinated teamwork. Being flung into the water thankfully didn't freak me out as much as I feared – I counted the seconds aloud in my mind in trying to be objectively aware of the passing of time. Rescuing people halfway through a rapid, and then quickly embracing for another possible imminent flip was fun too.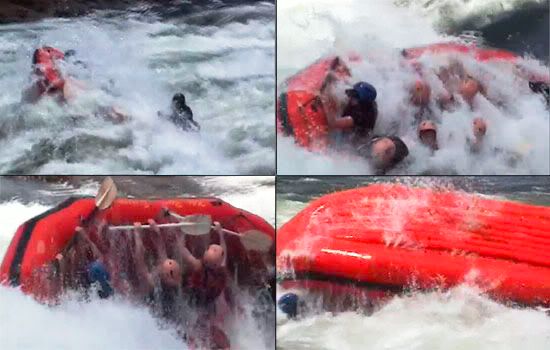 Before we knew it, we had already successfully traversed a few of the rapids – and were enjoying each moment! We also had a light lunch of fruits bathed in the waters of the Nile, on the raft, on the river. Watching birds land on the river while biting on a piece of freshly cut pineapple, it was totally like some exotic cuisine trip!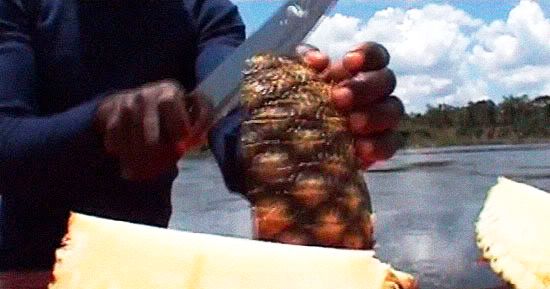 And it was mid-afternoon when we broke through our last and final rapid with a shout of accomplishment (and tiredness). Secretly, however, I wished that we had flipped a little more!
We climbed back onto land – scorching red soil it was under the high sun – trekking some uphill distance with whatever stamina we had left, barefooted on toasty stones and huge oars on our shoulders. We must be like ninja-trainees of the Zubichu clan or some wannabe-firewalkers in a Thimithi festival. When we finally got to somewhere with grass about ten minutes later, three out of the four of us had developed blisters under our foot!
Under the shade of some trees we had a proper lunch meal – a very nice barbeque (barbequed, to be precise) – before we hopped back onto our truck and proceeded to return to the NRE Base Camp.
There, on the open back of the truck together with various adventurers of all nationalities, a chilled bottle of soda each in our hands, I felt the effects of adrenaline now trickling away little by little – and it was sweet. My whole body slumped, but it was all right. I had just rafted the Grade 5 rapids of the Nile River, and I was still alive.
That same evening we bid the NRE camp and Jinja goodbye, and headed back to Kampala in a matatu – spacious for just the four of us, and cool in the setting sun. For a big portion of the three-hour journey, there was just silence amongst us, but that spoke more than words in the aftermath of all the excitement. We were tired, but not asleep – perhaps just mesmerized, rather. Riding and riding quietly on the highway into the orange horizon ahead of us, it felt so, so calm… So soothing, that it felt as though it would last on forever.
But reaching Kampala, we got reluctantly stuck in the city's unbelievable nighttime traffic congestion for hours! Surrounded by queues of vehicles in a non-moving road, some locals even came to beg for money at our car windows!
* * * *
After what seemed forever, we finally arrived back at the lively Kampala Backpackers. There we were allocated a four-bed room called the "Nature's Dorm" just to ourselves (I was starting to really think four is a good number to travel in). The room had a literally open window – without glass, curtains or blinds. Sue told us the last time she had an open-windowed room in India, monkeys raided her belongings. Thankfully the monkeys in Kampala Backpackers were better trained!
That night it poured down again heavily. Through the open window we had a gentle taste of the wind and rain, leaves and branches rattling busily in the background. It was a sound sleep in the storm, under the mosquito nets hugging our beds.
I caught the Nyakishenyi coach the next morning and left back for Kisiizi. Sue, Sally and Owen continued with the next part of their trip to Queen Elizabeth National Park.
And this time, I arrived in Kisiizi before dark!
* * * *
Epilogue
It was a tired Sunday the next morning. I had just returned from a crazy trip to Kampala and Jinja the night before, and was still enjoying my sleep when Michael knocked on my bedroom door. Michael had stayed behind in Kisiizi to study for his upcoming medical finals which would happen just after his electives.
"Joseph, time to get up for chapel service!"
I fumbled to check my watch. "But it's only 7am!" I mumbled semi-consciously.
"No it's not. Daylight saving starts today, so it's actually 8 o'clock!" Michael happily replied over my locked door.
"…What? Are you sure?"
"I am. Hey Gauda," Michael turned his voice to our maid, who must had walked by, "It's daylight saving today right?" After a pause of no clear answer, he continued, "Today, the time is one hour earlier, right?"
"Yes," Gauda finally replied, half-convincingly.
"See? I'm going to the chapel now – I'll see you there!"
So I laid in bed for a minute more, confused. I was aware that daylight saving was starting in the UK around that time, but daylight saving in an equatorial country like Africa? I remember even consciously asking myself if it was April Fool's day! But it wasn't, I was sure.
I climbed out of bed, got changed, brushed my teeth and walked to the chapel half-sleep. My body was aching from the whitewater rafting just the day before.
On the way there however, I saw Michael walking back, smiling.
"Sorry, my bad, there's no daylight saving here!" He laughed, and walked back to the Guest House ahead of me.
Standing there alone, I gave a laugh at myself too. Michael meant well, though.
* * * *